Learn About Your Account
Click on a part of the water account to see more information: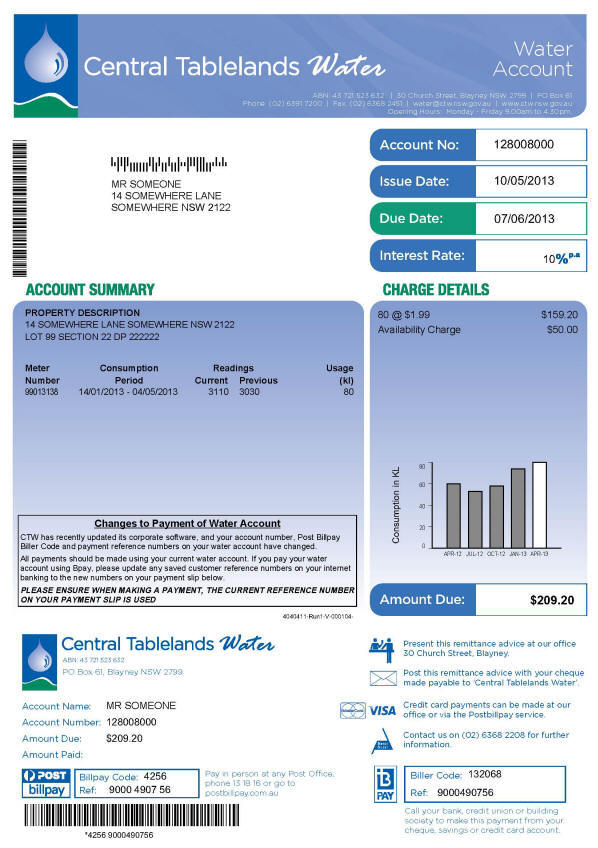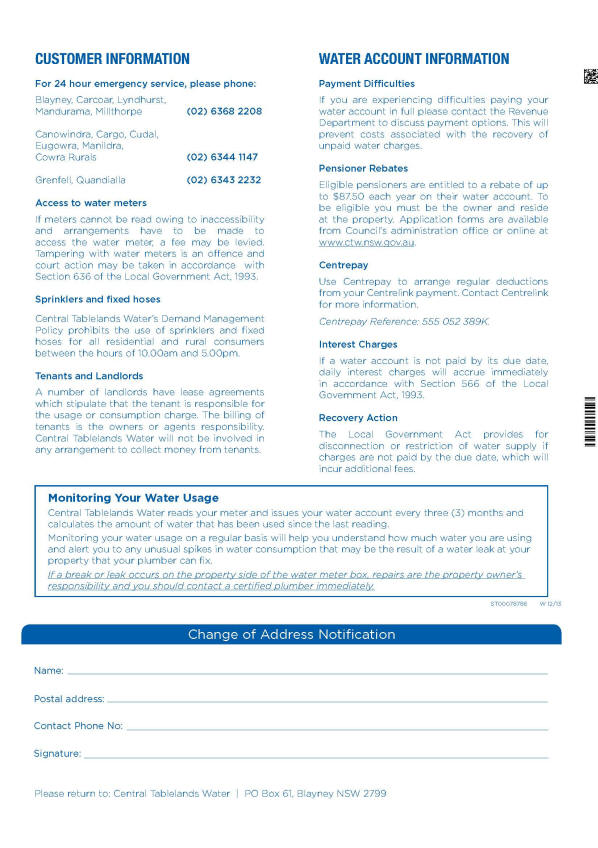 This is your account identification number. Please quote this number if you need to discuss your account with Central Tablelands Water. This will help our staff to deliver you a speedy service.
This is the address which we send the account to. To change your address please click here
Your account should be paid on or before this date. Customers currently have 28 days to pay their account. If you are experiencing difficulties in paying your account, see Payment Difficulties.
This is the amount that you must pay by the due date. The total includes the current account charges, less and concession entitlement applicable (for eligible pensioners), plus any previous outstanding amounts.
This is the property for which the account has been issued against.
This is any balance remaining from previous accounts, either credits or debits.
This is the period for which you have been charged for water usage.
This is your meter number, and current and previous readings. For more information on your meter, click here.
This is your water charge for the period of the account. Central Tablelands Water uses a step priced increase of 50% for incremental usage above 450 kilolitres per year. Water is charges per kl (1,000 litres)
Your availability charge are fixed fees that are levied for accessing the water system
Post Bill Pay Biller Code and Reference Number
This is your reference number with Post Billpay, and is used for Post Billpay transactions.
Bpay Biller Code and Reference Number
This is your BPAY Biller Code and reference number, and is required when paying your account via Bpay.
You can now pay your account using several different methods - see here for payment options
If you have an after hours water emergency, please choose the appropriate phone number for your area.
If you have not paid your account by the due date, interest will be charged at 9% pa, until the account is paid in full.
If you are an eligible pensioner, click here
Please notify Central Tablelands Water of any change of postal address, as soon as convenient by completing the Change of Address slip on your water account, or alternatively see Change of Address